Pretty Links Google Analytics, Integrating Google Analytics, Link Masker, Affiliate Link Cloaker, Link Cloaker, Link Shortener, How To Make A Link Pretty, Easy Link Cloaker, Pretty Links Pro License
Understanding what your visitor are (and aren't) clicking is an important factor when blogging. It's imperative for an authority blogger looking to use either SEO AD or Project 24 methodology to win at the organic traffic game.
Benefits of Link Cloaking
The main thing that you'll want to consider is that you can clean up your blog for Google, brand your links, and track users' interaction with certain offers once you have link cloaking (or link masking) in place.
It's 2020 and face it, nobody is going to click some long strange link that you've added to your post. Furthermore, when you use a plug-in link Pretty Links, you have the opportunity to add links to text right within your post inside of the editor.
No more jumping back and forth to tabs copy-pasting your affiliate link.
Link Management Plugin
Really what you want to do is manage your links.
Keeping everything organized can be a huge task when you have several offers, affiliate networks and as a result, different links you need to use.
The old way of dealing with this was logging into each network at the start of the day and jumping back and forth as you hunt for the right links.
If you were a bit more crafty, you may have made a cheat sheet with all your links.
This is what I've found to be a common practice for beginner affiliate marketers, I would especially do this and refresh my affiliate network looking for conversions multiple times a day.
Little did I know that I needed a system. A way to not only have an affiliate link cloaker, but also a link management tool.
Click Tracking
The fastest way to do this for free is trough Pretty Links' WordPress plugin.
The more thorough way to do it is through Google Analytics.
The thing about it is Google Analytics has a steep learning curve. It's not even about having an account or poking around for months.
It's literally so robust of a tool that you can easily get lost in it if you don't know what you're doing. I learned the ins-and-outs of Google Analytics and Google Tag Manager simultaneously through the MeasurmentMarketing.io curriculum.
They go hand-in-hand and it's a ton of material to cover if you are a beginner and just looking to get started in measurement marketing. I'd much rather have found Pretty Links first rather than second.
Affiliate Link Cloaker
Each time you add an affiliate link to your post you become a little bit closer to being a spammer. Unless you're purposefully using a mass page sites method, you're really going to be wasting your time and energy if you accidentally get penalized.
Building authority goes hand-in-hand with using an affiliate link cloaker and branding your links should be a practice to consider.
It's one of those things that you didn't know you needed until you have it.
Pretty Links was one of the first tools I ever bought to improve my site.
I wasn't aware of just how bad I was stunting my websites growth when I was looking for the cheap way of doing just about EVERYTHING. I'm a bit embarrassed about it even.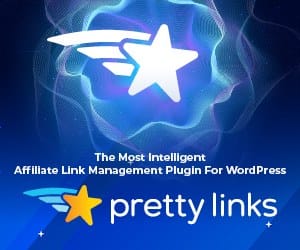 Measure Marketing
An entire subgenre exists around data-driven marketing. Better known as measure marketing, I was first introduced at a local meet-up known as Internet Marketing Party. I met Chris Mercer of Measurement Marketing after his speech about 2yrs ago.
At the time, I had no idea what was going on. It was one of my first times attending the meetup and this guy was on stage talking about data and UTM parameters, and Source/Medium, etc.
My mind was blown.
It wasn't just me though, it was all the participants in the crowd.
You could hear a pen drop.
I knew back then that if I could learn the data-driven approach to marketing that I would have firm ground to stand on as an affiliate marketer, as a media buyer, and overall as a professional.
How Far Do You Want To Go
It really boils down to a question of practicality versus mastery.
Practical Approach: As an affiliate, you'll want to know which links people are clicking the most and you'll be able to then understand which offers are getting the most attention. Additionally, branded links will make you look much more professional (And you'll be able to add affiliate links to Pinterest posts that usually would be flagged.)
Mastery Approach: Check out Measurmentmarketing.io this is where I jumped in originally and took the W.I.N. courses in GA, GTM, and Data Studio. These led me down a path of self-learning through YouTube and piling one technique on top of the next until I landed my first contract as a Google Traffic Manager.
I'm very much interested in the approach outlined in UltraLearning by Scott Young. It was something that I had already known to be a component piece in the back of my mind after attending Productivity Con here in Austin at the very beginning of 2020.
WordPress Link Tracking Plugin
I knew what I was signing up for when I first saw the opportunity to learn Google Analytics click tracking. However, I wasn't aware of the alternative to GA in the form of Pretty Links.
There are levels to this whole affiliate marketing thing, and it would be a series of tools that would get me profitable in making my first authority site.
Later I started to using link whisper to connect my internal links easily and quickly.
It was around the 1 year mark that I would realize the power of Pretty Links as a branded link builder and affiliate link cloaker. Additionally, I started to use the campaign URL builder to UTM tag my links for organization in GA.
Pretty Links Free vs Pro
The biggest benefit I found was the ability to find and hyperlink keywords or keyword phrases.
I was overjoyed to be able to place a phrase such as "beginner affiliate" into pretty links and then chose a link that would then be associated with that phrase everywhere it showed up.
adding links like this is what is often refer to as link masking, and in this instance, it makes a ton of sense to clean up your links and the tracking associated with it.
WordPress Referral Plugin
There's an entire industry built upon commission-only salespeople. Aside from affiliate link management, there is the ability to develop an MLM styled tier program for affiliates to enjoy.
I only point this out because there is a distinction that can be a bit confusing when you're starting out.
What I'm addressing in this article is affiliate link management and link branding along with click tracking.
However, there is a separate need for an affiliate system.
So if you have a product, service, or software and want to offer an affiliate program to say the readers of Blue Highlighted Text, you can easily manage assets (banners, widgets, links) and provide stats (to affiliates who don't track their own).